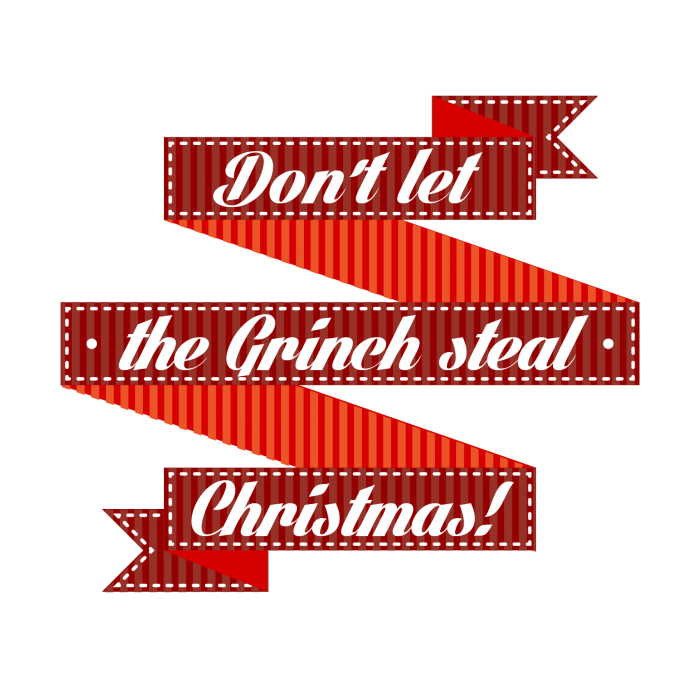 It's the most wonderful time of the year – especially for thieves! Certain times of the year, like the holiday season, present a higher risk for break-ins than others. In amongst the hustle and bustle of prepping gifts, preparing goodies and planning trips it is important to take preventative measures to #grinchproof your home. We've compiled a list of security tips to help you get the process started:
If you don't have an alarm system, get one! In debate? There's no time like the present. A security system from Aban Security is the safest gift you can give! The whole family will benefit.
If you have an alarm system, use it! It does not matter if you're running a quick errand or gone for a few days, either way make sure your alarm is set every time you leave the house. Your forgetfulness might just be a thief's opportunity.
Invest in GSM backup. GSM enables your current security system to function even if the line is cut or tampered with. Peace of mind is worth the extra $15-20 a month.
Test your alarm system. It's easy: Get your password handy, set the alarm off, and then call our monitoring station (604-878-1245) to let them know you're just testing the system.
Have someone you trust check on your home. Whatever you do, don't hide your keys! Give neighbors, friends or family a set of keys to your home as well as the code to your security system.
Update your call list. If you're jetting away for the holidays contact Aban Security before you leave to let us know what dates you're gone and to update your call list.
Make it look like someone is home. Either cancel the newspaper and any special orders or get someone to pick up the mail. In addition, set a timer to turn lights on and off at different times. The goal is to make your home look lived in, ask a neighbor to park their car in the driveway, shovel the snow and put their garbage out for collection in front of your home.
Replace deteriorating alarm system signage. New stickers and other signage from your security company tell thieves your security system is up to date and running better than ever.
Running extension cords for Christmas lights through windows is a no-no! If there is a cord in the window you can't lock it. The best thing to do is to hire someone to install an inexpensive exterior outlet to plug the Christmas lights in outside.
Don't leave descriptive telephone answering machine messages explaining that you are away, Burglars love to hear that they have plenty of time to break-in and take all they need.
The same goes for social media – resist the urge to Tweet or Facebook about your amazing holiday plans. Once again, if you are leaving the house unoccupied for any amount of time during the holidays keep it between friends and family.
Avoid displaying a nameplate outside of your house. Criminals can use this information to look up your number and call to see if you are home.
Get tricky with luggage tags. Tag your luggage with your work address so potential criminals can't find your empty house.
Make sure holiday decorations do not interfere with your security system. Decorations are awesome, but not if they obstruct video cameras or set off motion sensors. Be cognizant, it would be a shame if gobs of tinsel or a Christmas tree let the bad guy get away.
Be suspicious of special deliveries. Insist on seeing identification from sales, delivery and service people. Even if you did order a package or are interested in a sale don't let them into your home.
Unload gift purchases in the garage. Taking Christmas shopping into the home from driveway lets passerbyers know you've got a house full of goodies.
Hide the goods! In an ideal world you should refrain from putting presents under the tree until Christmas Eve. However, if that seems like crazy talk hide the expensive gifts, or keep your Christmas tree away from the front window.
Don't leave a trail. So you wrapped your gifts and immediately threw out all of the boxes – now burglars can do their own Christmas shopping to see if you're house has the cellphone or computer they asked Santa for. All in all, don't put boxes and wrapping from expensive gifts in the garbage to soon. You don't want to advertise all the new items in your house!
Don't let Grinch-like thieves steal your Christmas! Set aside some time to #grinchproof you're home before the chaos begins.
If you encounter any questions or concerns during the process, contact us. We'd love to hear from you.