Based in North Vancouver and serving the Greater Vancouver area, Aban sells, installs, and services a wide variety of CCTV digital video surveillance camera systems.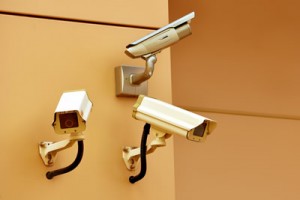 CCTV or Closed Circuit Television is a security solution that can result in considerable cost savings. Statistics have proven a major reduction in crime in areas utilizing video surveillance. In general, CCTV used with a security system is one of the most cost effective solutions to crime prevention. New technologies allows us to integrate CCTV, security alarm systems, and access control systems which provides an advanced security solution to the end user.

Benefits of Security Camera Systems (CCTV):
It's proven that a simple video surveillance system can easily cut the crime figures in half.
One of the primary benefits of a security device is to deter a criminal act from ever happening.
Cameras help to keep people on their best behaviour when you're not there, and enable a manager to monitor work habits and improve productivity.
Considerable cost savings to guards and a security enhancement with guards.
Theft due to dishonest employees and shoplifting can be significantly reduced.
Recorded activity can validate events of all types as well as prevent false accident claims, etc.
Allows remote viewing from off-site via smartphones and tablets.
A CCTV system can have "Point Of Sale" data integrated with recorded video to confirm that the sales person is entering the correct data at the till.
You can see areas at any time without being there.
It will provide audible alerts to people who should not be in an area and let them know they are being watched.
Recent "Megapixel" technologies have greatly improved picture quality compared to just a couple of years ago.
A video surveillance system reduces your liability and is an effective deterrent against false claims of a criminal and can help you contest these claims should they occur.
Strategically placed cameras can help prevent those with access and intent to steal your intellectual property think twice.
Many retail businesses use their video security systems to study customer shopping habits, store traffic patterns, improve product placement, and ensure a positive customer experience.
A video surveillance system with remote access capability can be used to verify alarms.
Video is commonly used in manufacturing or fulfilment environments to monitor equipment and quickly identify problems that may cause delays or bottlenecks.
Can protect your assets and provide a safe and secure environment for employees, friends and family.