APEX MEDICAL ALERT SYSTEM
---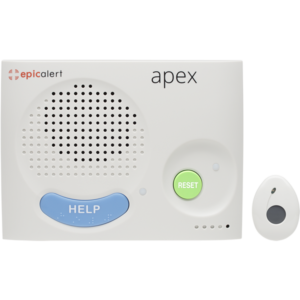 APEX builds on multiple advanced and powerful features such as a built-in temperature sensor and voice prompts. With automatic low battery detection on the base unit, telephone line disconnection and power failure, Apex alerts both the user and the monitoring station of any technical issues. Apex also supports up to 10 devices.
Automatic Fall Detection
Minimalist Design and Easy to Use
Backup Battery
Built-in Room Temperature Sensor
17 voice Prompt notifications
Supports 2-Way Voice Communication
Contact ID-Protocol
Long Range
Call-Cancelling Feature
Can be Programmed Remotely or Locally
Read More: APEX MEDICAL ALERT SYSTEM
OVAL FALL PENDANT
---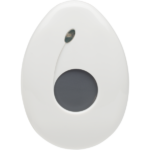 OVAL, is the smallest and most accurate fall detector available. Designed to be carried anywhere, Oval automatically detects a fall and sends a help signal through the base unit to the monitoring station. If movement is recorded within the programmed transmission delay time (0 – 99 seconds), the call will be cancelled. The call can also be cancelled with an 8 second press of the help button. Although lightweight and small in size, Oval is highly resilient and able to withstand any situation.
World's smallest automatic/complex fall sensor
help call/ false alarm cancellation
Incoming phone call answering
Waterproof
Range: 425 ft.
Battery life: 2 years
Read More: OVAL FALL DETECTION PENDANT
NANO PENDANT
---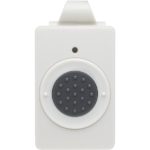 NANO is another pick from our flagship line of user friendly products. Available as a pendant or as a wristband, Nano's compact size, light weight and clean lines make it discreet and easy to wear. Unlike other bulky, dated pendants, Nano was designed to be resilient and attractive. The ability to cancel alert calls with a long press of the button and many other innovative features make Nano one of the best pendants on the market.
Market-leading well-designed pendant
Wear as pendant or on a stylish wristband
Help call/false alarm cancellation
Answer incoming phone calls on home phone with 1-press button
Waterproof
Battery life:5.5 years
Read More: NANO FALL DETECTION PENDANT
WAVE MOTION DETECTOR
---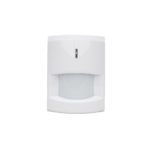 When used concurrently with a base unit, WAVE acts as an inactivity monitor. If motion is not detected in a home for a programmable period of time, an inactivity alert is sent to the monitoring station. Personnel will then respond with the appropriate course of action. Since quick action saves lives, Wave is an invaluable addition to a Personal Emergency Response System.
Inactivity monitoring: alerts can be sent to the monitoring station if motion is not detected for a period of time.
Range: 650 ft. (200 m)
Battery life: 5 years
Read More: WAVE MOTION DETECTOR
TACT DOOR CONTACT
---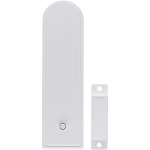 Easily mounted and compactly designed, TACT is barely noticeable and can be placed anywhere. When used with Apex or Apex V, the capabilities of the device extend even further. Tact can be used to track whether someone opened a particular cupboard or not. When monitored, this feature is a cost effective way to track if an individual took their medication

Door contact: tracks the opening/closing of doors
Can be used in other locations such as medicine cabinets
Range 650 ft. (200 m)
Battery Life: 3.5 years
Read More: TACT DOOR CONTACT
PICO EMERGENCY BUTTON
---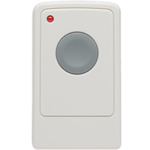 With its 200 meter range, PICO can be placed anywhere enabling users to call for help regardless of location. Mount Pico on the bedroom or bathroom wall. Since users can receive help from these locations, Pico is especially useful in situations where they forget to wear or bring their pendants.
1-Buttin device to call for help
Can be placed anywhere
Waterproof
Range 650 ft. (200 m)
Battery Life: 5 years
Read More: PICO EMERGENCY BUTTON