Recreate the big screen in the comfort of your own home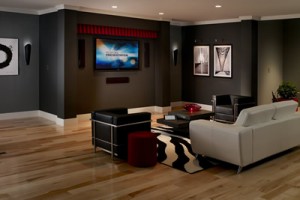 The world of home entertainment has changed dramatically and today your options are much more varied, with everything from audio video receivers, speaker systems, universal remote controls, Blue-Ray players, AV servers, iPods, home theater seating, lighting, custom racks, user-friendly home theatre programming, and more.
If, like most, you enjoy relaxing with the family and watching films there is no better way to enhance your experience than by settling down in your very own custom designed home cinema room.
At Aban, we have been installing home cinema systems for nearly a decade. Our vast experience means that if you are looking for a custom designed dedicated home theatre system for your home cinema, family room or lounge, our team can help transform your room into a perfect environment for watching films, playing games and watching TV.
Every cinema room we create is completely custom designed around your room, your family and how you wish to use the room. We offer many levels of service to suit you. From a "Turn Key" solution of complete interior and acoustic design, project management, structural build, decoration, AV installation and calibration to simply audiovisual system design and installation working in conjunction with your existing tradesman. Whatever level of involvement you would like us to have in your project we have a single goal in mind—to deliver the best possible cinema experience for your budget.
When designing a dedicated Home Cinema Room, an often-overlooked element is the lighting. Ensuring your cinema has suitable lighting circuits and fittings to reflect how the room will be used will not only enhance the look of the room but also the performance of the system. By combining soft, discreet hidden feature lights, step lights, spot lights and anti glare wall sconces, we can create the perfect lighting mood for relaxing to watch TV, settling down for a movie or even lighting a pathway to the bathroom during an intermission—all at the touch of a button on your remote control.
The possibilities are endless. If you are looking into any new home theatre solutions or Audio / Video equipment, TV or need custom installation, then you have reached the right place.