Aban offers you easy-to-use and simplified automated heating and cooling control systems from any room in your house or any place in the world.
With Aban, keep your thermostats at your fingertips wherever you go.

Here are a few benefits from using heating and cooling automation in your home or commercial space:
Save money—stop heating and cooling empty rooms.
Look good—it's time to replace your old metal vents.
Improve comfort—evenly balance the temperatures in your home.
Easy installation—installs in minutes.
Be green for less green—reduce energy usage without spending a fortune.
The main advantage is usually in the form of increased efficiency; connect with one of our specialists to get your home in control!
Heating control systems can be used to adjust your heating system automatically to temperature changes inside and outside your home to achieve optimal performance, comfort and environmental efficiency.
Heating controls can also be combined with green technology such as geothermal heat pumps, photovoltaic cells, solar panels and wind turbines to help reduce costs and in some cases help generate income through selling energy to the national grid.
One of the significant advantages of a smart heating control system is that you can control your heating system remotely using your mobile phone or a PC. This enables you to turn heating on or off from work or when on holiday, ensuring your house is warm and you have hot water ready only when needed.
Conserve energy, save money
Today, energy efficiency is an essential element of every home and business. In fact, lighting can account for up to 20% of a household's yearly electricity usage, and up to 40% a year in commercial buildings. Lutron has been providing energy-saving light control solutions for more than fifty years. When considering your options, keep in mind that Lutron dimming saves energy without sacrificing style or convenience.
For single homes, buildings, or large commercial campuses, we offer dimmers, occupancy/ vacancy sensors, light control systems, and shading solutions to reduce lighting energy use, optimize system performance and enhance the visual environment.
Every commercial space, small or large, can realize energy savings by installing lighting controls. Easy-to-install wireless control options provide quick retrofit solutions to help buildings meet and exceed building energy codes.
There are many ways to save energy throughout a home or office; from dimmers, occupancy sensors and whole home light control systems, to window solutions that manage daylight and help control heating and cooling costs. Replace a single light switch with any Lutron dimmer and potentially save $30 a year. For guaranteed savings, use the combination of dimmers, timers, sensors, and window shades to maximize your energy efficiency.
Shades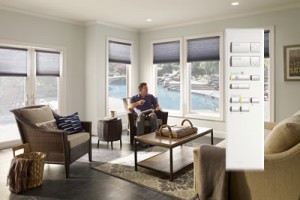 In addition to providing heating and cooling control, Aban can also install a curtain and window blind control system, which can open and close blinds anywhere in your home at the touch of a screen or even via your smart phone.
When providing Smart Security, Aban integrates a sequence of curtain and blind opening and closing during the day as part of a home security system to simulate occupancy.
If you would like to know more information about Smart Security, please see the integration section of our website.